Paradise in your back yard
With the increased expenses of taking family vacations, many people have turned to the alternative of creating their very own oasis in their own back yards. Not only does a residential pool continue to provide summertime fun year after year, it increases property values for a solid return on your initial investment. The proximity of a vacation spot right outside your back door can be the best stress reliever and a great way to keep the family together ― and the kids at home!Our Design Consultants can show you how a well-designed backyard can triple your living space. Call us, and we'll help you start making plans to build paradise in your backyard today, for the perfect vacation spot you'll love tomorrow, and year after year.
Some people will call us and say, "I want a 20 x 40 rectangle." We explain to them that with gunite, you're paying for square footage and perimeter footage so we could do a more original 20 x 40 custom shape and save you money at the same time. We've done pools in a number of different shapes, like the shape of the state of New Hampshire, a wine glass, wine bottles, and guitars. There's no limit to what we can do and it's important to us that your new pool reflects your own unique personality and landscape. Perhaps you'd like a vanishing edge cascading over a dramatic drop off, or if you're in a wooded setting we can create more of a natural pond look with stones. We can go from simple to extravagant and are happy to work within your budget.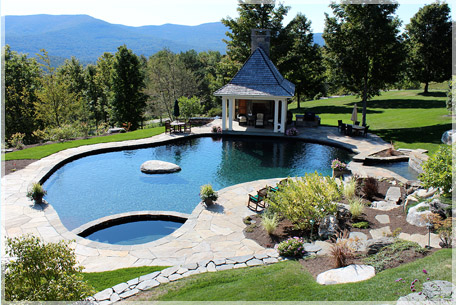 "I used to see my grand kids maybe once a month, now they spend weekends with us enjoying our new pool."

-Susan M., Portsmouth, NH
"Our kids were always off with their friends, it was hard to keep track of where they were and who they were with. But now with our pool, we know right where they are and who their friends are."

-Jeff W., Newport, RI