Commitment to Quality
Custom Pools is a Master Pools builder with a mission to build you one of the finest pools in the world ― a unique pool according to your dream that you will love and be proud of for years to come. As a Master Pools builder and a member of the Master Pools Guild, you can rest assured that your new pool will be built using leading industry technology and construction techniques, according to the Master Pools Guild Code of Ethics, which respects the rights of clients.At Custom Pools, we're committed to our own quality design and construction, but also pride ourselves on the relationships we've built with our associates, suppliers, distributors and the connections with their employees. It's not unusual for us to bring all the crews together to discuss a particular job in progress. These meetings are used to discuss methods and techniques that have made Custom Pools the innovators in pool construction
since 1968.
We have some of the finest craftsmen and technicians in the industry on our team, and take great pride in the way they share our commitment to excellence. Some of our employees started with the company over thirty years ago, which contributes to our ability to deliver top quality pools year after year.
As one of New England's leading pool companies, and the only certified Master Pool builder in Maine, New Hampshire, Massachusetts and Vermont, we specialize in all the latest technological advancements. These advanced, automated features are what enable us to provide you with an easy-to-operate pool that actually cleans and maintains itself. So, what's keeping you from getting the pool you want? It's never been easier to own a pool, call us today for a design consultation.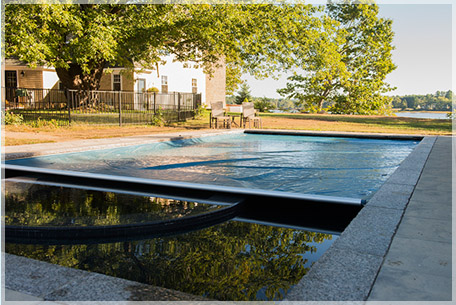 Community Matters
As a third-generation family owned and operated business, we've always looked for ways to give back to our community. One year, Custom Pools, working in conjunction with the Make-A-Wish Foundation, donated a 15 x 30-foot heated pool to a Dover family for their seven-year-old child battling leukemia. We donated a pool for the tigers at York's Wild Kingdom, and helped to build a stage for the Prescott Park Arts Festival. We proudly sponsor local sports teams and embrace many other community based activities and organizations.
"I took my father out of retirement to build the pool for a Make-A-Wish Foundation girl in Dover, New Hampshire. And, it was a good thing. It made everyone working on that pool feel good about Make-A-Wish and what we were able to do to make that little girl happy."

~Brian Short